Greetings from ASJA Chairperson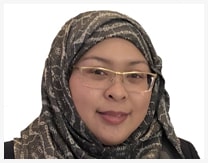 Chairperson of ASJA International
President of Brunei Association of Japan Alumni (BAJA)
Ms. Hajah Najmina Fairuz Binti Haji Abd Latif
Warm greetings to all members and supporters of ASJA International and affiliated associations in Japan and ASEAN countries.
As Brunei Association of Japan Alumni (BAJA) has only in recent years become a member of ASJA International, it is with great honor and humility that we take up the mantle of Chairperson of ASJA Board of Directors.
ASJA celebrates 18 years since establishment this year (2018) and has since invigorated the relationship between Japan and ASEAN countries which has always been special.
The ASJA-ASCOJA Symposium initiatives of recent years has especially brought the people of Japan and ASEAN together in sharing subject matter experience and at the same time foster better relationships between members.
I wish to record our gratitude to the Japanese Government and the enduring foreign policy of heart to heart based on the Fukuda doctrine, but also the past Chairpersons and the ASJA Secretariat for all their efforts, persistence and perseverance in sustaining ASJA International and its initiatives.