Fukuda Doctrine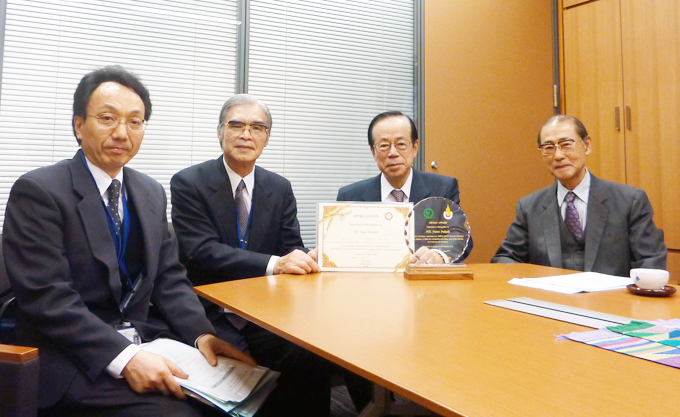 Presentation of the ASCOJA AWARD to Former Prime Minister Yasuo Fukuda (March 2012)
The "Fukuda Doctrine" was announced in Manila, Philippines by Former Prime Minister Takeo Fukuda, the late father of Former Prime Minister Yasuo Fukuda, on August 17, 1977, during the final stop of his visit to various ASEAN countries.
Although there are references in his speech as a whole, today the general focus is on the following three principles discussed in the closing remarks of his speech.
First, Japan, a nation committed to peace, rejects the role of a military power, and on that basis is resolved to contribute to the peace and prosperity of Southeast Asia, and of the world community.
Second, Japan, as a true friend of the countries of Southeast Asia, will do its best for consolidating the relationship of mutual confidence and trust based on "heart-to-heart" understanding with these countries, in wide-ranging fields covering not only political and economic areas but also social and cultural areas.
Third, Japan will be an equal partner of ASEAN and its member countries, and cooperate positively with them in their own efforts to strengthen their solidarity and resilience, together with other nations of the like mind outside the region, while aiming at fostering a relationship based on mutual understanding with the nations of Indochina, and will thus contribute to the building of peace and prosperity throughout Southeast Asia.
The Fukuda Doctrine subsequently became the backbone of Japan's foreign policy toward ASEAN. In the same year that the Fukuda Doctrine was announced, Japan was the first country to hold a joint summit meeting with ASEAN leaders. The Japan – ASEAN Foreign Ministers' Meeting was held the following year in 1978, and Japan was the first country to open a dialog to start a cooperative relationship with ASEAN.
ASJA implements its programs in the spirit of the Fukuda Doctrine.